Net Impact Speaker Series
ESG Strategy in a Recession - November 17, 2022, 12:00 pm to 1:00 pm
Register Here
Calling all current and future business leaders!
Amid challenging times, business leaders must balance emerging concerns with new opportunities faster than ever. Join the dynamic NetImpact UCONN community to explore the emerging trends and, learn from industry experts on the evolution of ESG strategy.
What should you expect:
What's ESG and how it impacts the corporate ecosystem and future business leaders?
How would corporates prioritize their ESG strategy during a recession?
Would corporate sustainability be a differentiating factor during troubled economic times and thereafter?
What can I do to add value to the organization in these times?
Featuring:
Lawrence Deju-Wiseman
Director of Market Abuse and Financial Services Conduct at PwC UK

Lawrence specializes in complex markets, derivatives, digital assets, and DeFi.  His experiences draws on his time as an FX options trader with BP, and more recently as the Global Head of Surveillance at HSBC covering FX, commodities, benchmarks, retail markets and multi-asset derivatives.  Additionally, he holds dual qualifications as a New York attorney and a UK chartered accountant.  Lawrence frequently writes and speaks at conferences on emerging conduct issues, and works with universities, having previously served on the MBA Board of Advisors at the Olin School of Business and currently serving as a Professor in the Field at the University of Connecticut School of Business.  Outside of work, Lawrence is a keen gardener and enthusiastic (if unskilled) trail runner.
Lisa Maughan
Senior Manager, Financial Crime at PwC UK
Lisa leads Environment, Social and Governance for Financial Crime at PwC. In particular, she has been focused on the risk of greenwashing and the manipulation of carbon markets. She has delivered several presentations and published articles on the topics such as Greenwashing away value in Deals. She also specializes in supporting clients to design and enhance their financial crime governance, risk and controls. For instance, she led the development of a global financial crime target operating model and the definition of financial crime risk appetite. 
Prior to PwC, Lisa led criminal and regulatory investigations into financial crime at the UK Financial Conduct Authority which included the high profile FX and LIBOR investigations. 
Lisa also worked at the French regulator where she advised on legal affairs relating to market abuse and was responsible for international cooperation to obtain evidence to assist local and foreign investigations. 
Global Business Leadership in Sustainability Session
March 25, 2022: 1:00 to 4:00 PM
Net Impact Graduate Chapter is proud to support the Global Business Leadership in Sustainability Summit.
About the Event:
The UConn School of Business is excited to host the Global Business Leadership in Sustainability Summit (GBLSS) on Friday, March 25, 2022 from 1 pm to 4pm at UConn's School of Business on the Storrs campus. This half-day event will gather professionals, faculty, and students to discuss key sustainability topics for businesses. In addition, we will highlight existing sustainability initiatives ongoing across the University of Connecticut. The summit aims to create a space to build productive relationships with sustainable business partners while continuing to educate and prepare our students.
The agenda will kick off with a Keynote Panel discussion featuring representatives from UConn, the public sector, and the corporate sector to respond to critical questions about sustainability in business. After the keynote, we will have breakout sessions focused on Corporate Social Responsibility (CSR) and Environmental Social and Governance (ESG) – how we do business sustainably and how we measure it. We will conclude the afternoon with a closing session to debrief on lessons learned, plan for the future, and connect with one another via a networking reception. Networking will be organized according to "affinity groups" which participants can choose upon registering.
Creating a Clean Energy Economy in Connecticut: The Role of The Electric Vehicle (EV) Industry.
November 7, 2018: 4:30-6:00 PM
Net Impact Graduate Chapter
 and its partners the 
Connecticut Sustainable Business Council (ctsbcouncil.org)  and UConn Graduate Business Association
 invite you for a Guest Speaker Event with 
TESLA Inc
.
    The keynote speaker for the event is Carine Dumit, Senior Policy Advisor and Business Development at Tesla Inc.
Where: UConn School of Business Global Learning Center (GBLC), Hartford, 100 Constitution Plaza, Room 505
Light refreshments will be provided.
Global Environmental Response: Corporate Social Responsibility - Thursday, April 19, 2018
4:30 PM - 6:30 PM
Dr. Stephen Park, the UConn Satell CSR Fellow, will moderate a panel focusing on global CSR activities. Academics and industry leaders will discuss the business challenges they face in addressing sustainability while also discussing the future of CSR within their fields.
Speakers include:
Michelle Nagar, VP, Social Responsibility, Starwood Hotels & Resorts Worldwide
Diane Cantello, VP, Corporate Sustainabillity, The Hartford Financial Services Group
Dr. Belinda Wade, University of Queensland (via Skype)
Brian Paganini, Quantum BioPower
Where: UConn School of Business Global Learning Center (GBLC), Hartford, 100 Constitution Plaza, 2nd Floor Observation Deck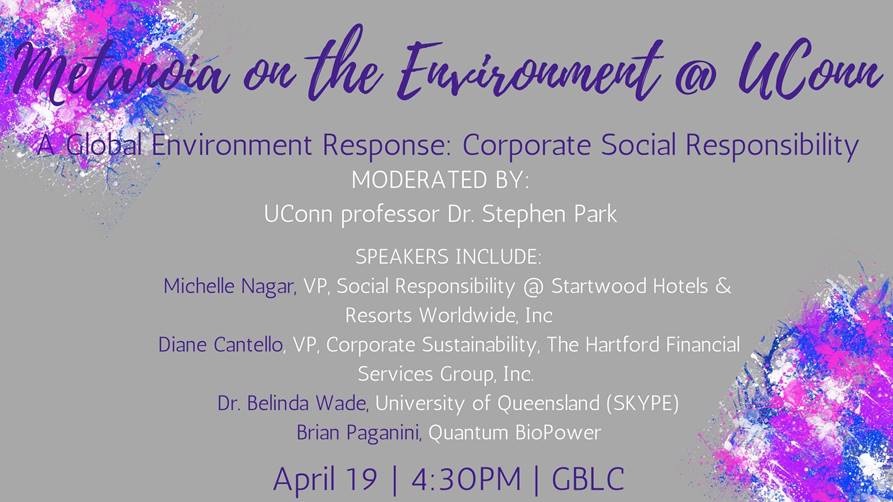 Foodshare Volunteer Event - Friday, December 15, 2017
8:30 AM - 11:30 AM
Work alongside your friends and colleagues to fight hunger in your local community with Foodshare—the area's largest food bank—sorting and packaging food items to be sent out to the needy. All graduate students are encouraged to join. You do not need to donate any food items.
Riverfront Recapture Volunteer Event - Friday, October 13, 2017
8:00 AM - 12:00 PM
Work together with Riverfront Recapture team to level and grade several paths in preparation for the Hartford Marathon.