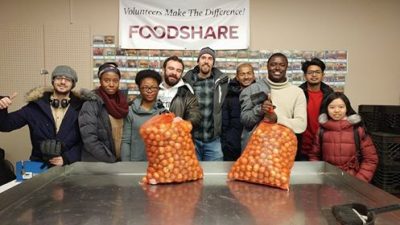 UConn's Gradute Net Impact Chapter hosted a volunteer event with FOODSHARE (one of the largest food banks in Connecticut) on December 15th, 2017. As the region's food bank, they work toward the vision of getting food donations from the food industry and distributing them to 300 food pantries, community kitchens, homeless shelters, and other partner programs.
Nine UConn graduate business students were in attendance during the volunteer event. The FOODSHARE coordinator gave the students a brief about their facility in Hartford and how they accommodate to the needs of Connecticut. FOODSHARE has two main facilities in Connecticut, one is in Hartford and the other is in Bloomfield. These facilities have trucks that go out to numerous communities within Connecticut at least twice a week sharing and distributing food items such as apples, potatoes, other fruits, onions, tomatoes etc.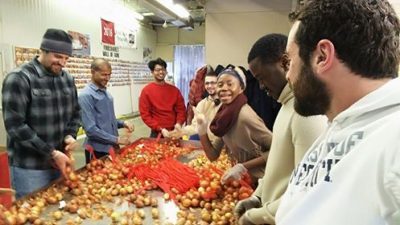 During thanksgiving week, they got over 10,000 turkeys as donations and this they distributed in the communities. These facilities ensure that they rotate trucks and have designated stops around the state. The food items that are share weekly is for anyone who needs food not necessarily the homeless. They just try as much as possible to give out to people that are present at their distribution locations. The people donating food can be anyone from large organizations, individual churches, etc.
FOODSHARE provides various volunteer opportunities to individuals to get their hands dirty, while helping our hungry neighbors.
If you're ready to take action, join the Movement to Solve Hunger.