If there was any qu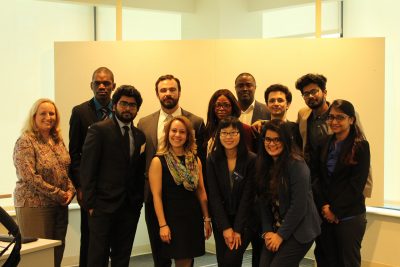 estion about how much heart and soul participants put into vying for the UConn Net Impact MBA Sustainability Case Competition victory, it could be measured by the disappointment on the faces of those who didn't place.
"This was an incredible competition in which every team gave its all," said Allegra Klein, president and co-founder of the Net Impact graduate chapter at UConn, which strives to empower a generation to drive social and environmental change throughout their careers.
"The amount of passion that each team brought to the competition indicates the strong drive we all have for making the world a better place," Klein continued. "I think everyone left with new friends, new business contacts, and a renewed sense of purpose."
When members of the chapter, now in its second year, searched for regional competitions nearby, they couldn't find any. So they created their own.
Nine teams participated in last week's competition at the Graduate Business Learning Center in downtown Hartford, drawing graduate students from across the country and as far away as Hong Kong. Not only was the event extremely successful, it drew top sponsors, including United Technologies, Robinson & Cole, Cigna, and UConn's Center for International Business Education and Research (CIBER).
The case competition challenged participants to measure the impact of one of United Technologies' key philanthropic programs on the community, its employees and customers. Participants had one week to prepare their exhibits and their presentations were detailed and colorful. Among the judges were John Mandyck, chief sustainability officer at United Technologies, and Mary Tullis Engvall, director of Cigna Foundation, Civic Affairs & Corporate Responsibility.
The winning team hailed from University of Pittsburgh; second place went to Hong Kong University of Science and Technology, and the UConn team netted third place. The UConn challengers included Cody Broderick, Robert Budlong, Scott Crump and Holly Judge. Other teams came from University of New Haven, Clark University, Northeastern, UMass-Lowell, Drexel and Illinois State.
"The advantages of participating in a case competition are numerous," Klein said. "We enjoy networking with students from diverse universities, as well as with potential employers, and we appreciate exchanging great ideas. It also reinforces our experiences with research, learning, and presentations—and spreads the word about corporate social responsibility. We accomplished what we set out to do and are already planning next year's event."
Budlong, a Part-time MBA student at UConn, said he was impressed by the senior-level executives who served as judges for the competition and was taking notes on how some teams stood out in their presentations.
"I'm excited about what I learned here. It was an awesome experience. When you're put in a team and you pull together everything you know, that's when you learn the most," said Budlong, who works for the federal government. "It's like football. You can study it all day but until someone puts that football in your hands, you haven't learned the game!"
Judge, a Full-time MBA student set to graduate in May, won the best presenter award. Judge, who grew up overseas and spent a great deal of time in Australia, said sustainability was a fact of life growing up. She considers environmentalism a core part of life, and said she's excited to see the CSR movement growing.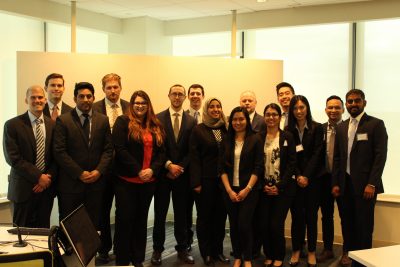 Mandyck, the chief sustainability officer at United Technologies and an adjunct faculty member at UConn, said he was very impressed to see the thought, care and creativity that the graduate students put into their work.
"It is a very pressing question of how to measure the value of these endeavors, and each team helped us think through it on our own," he said.
He said UTC was excited to support the case competition because it reflects the company's value of higher education and intellectual curiosity; it aligns with the company's strong commitment to corporate social responsibility and sustainability, and it helps answer some of the pressing issues of evaluating the impact of doing what's right in the workplace.
Meg Warren, director of the Full-time MBA Program, said the event surpassed her expectations in many ways.
"Case competitions are an invaluable way for students to gain practical experience outside the classroom while demonstrating such skills to the panel of judges who tend to be 'employers of choice.' I also think these types of events are a great way for students to network with like-minded people from other programs. I watched many of them trading business cards while planning to keep in touch. Who knows where some of these students may cross paths again? And they'll say they met at UConn," she said.
"I am confident that this will be the first of many opportunities we will have to host students from other programs to compete here in Hartford," Warren said. "It's exciting to see many new initiatives happening in our capital city and to have the UConn graduate business students play a part in this is very special."