Personal Story of Overcoming Homelessness Adds Powerful Dimension to Net Impact Panel Discussion
April 10, 2017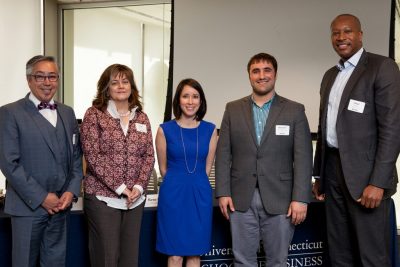 Daryl Shore's personal story silenced the crowd at the inaugural meeting of the new UConn graduate students' Net Impact chapter, an organization of people eager to make a positive change in the environment and the world. 
Shore, a manager in the Impact Investments Group at Prudential, talked about the need for affordable housing and how important it is to bolster it with good schools, grocery stores, transportation and jobs.
He talked about one of the biggest challenges, which is vying for land for affordable housing, when developers are trying to purchase the same city properties for luxury developments.
Then, someone asked the panelists why they became interested in corporate social responsibility. Shore said he grew up in North Philadelphia with two parents who were addicts. He experienced a period of homelessness before finding support and security from a school.
He went on to earn a bachelor's degree in economics and political science at Emory University, an MBA in finance from Clark Atlanta University and a master of science in real estate at Johns Hopkins University.
"Quality housing can have a catalytic effect on a distressed community. I believe that if people have quality housing and quality neighborhoods, they don't need to have wealthy parents. They need access to opportunity," he said. "For me, having a job that impacts people's lives is a dream job."
The April 10 program, titled, "Careers for the Common Good: The Value of Sustainability in Business," also featured four other guest panelists, including:
Sara Bronin, an architect and UConn Law School professor who chairs Hartford's Planning & Zoning Commission and co-chairs Hartford's Climate Stewardship Council;
Rene O. Deida, the relationship manager for Prudential Retirement, Annuities, Human Resources and Global Business and Technology Solutions;
Susan Rochford, vice president of energy efficiency, sustainability and public policy for Legrand North America; and
Benjamin Simmons-Telep, the director of programs at reSET, a non-profit social enterprise trust in Hartford.
Allegra Klein, president of the Net Impact chapter at UConn, and a 2018 MBA candidate, said there is a sense of optimism and excitement about these topics among future executives. Some 50 attendees, primarily graduate students, attended the event at the Graduate Business Learning Center in downtown Hartford.
"There is a blossoming interest in sustainability among many people who want to 'do good' with their carer path," she said. "Even if you're not working directly in sustainability, there is a sense that you can still make a difference in whatever job you have."
The business leaders urged the students to continually educate themselves about sustainability issues; to reach out to those who inspire them; to bring passion to their work, and to have the courage to challenge the status quo.
Bronin told the students that local efforts in sustainability and environmental protection are the next frontier, as dedication to climate issues has faltered on the federal level. She spoke of Hartford receiving a $350,000 grant to create a sustainability office to look at reducing energy use, enhancing green space, conserving water, disposing of waste and improving transportation options.
Deida spoke about how a company can use its core competencies to address a social need, while still achieving corporate goals. Consumers want to do business with companies that are socially responsible because they can trust them, he said.
Rochford, a UConn alumna, whose company delivers access to power, light and data to millions of residential and workplaces around the world, is responsible for advancing the company's progress in setting and achieving sustainability goals. The company has cut its energy use by 40 percent and instituted strict eco-friendly standards for its suppliers—addressing everything from chemical use to recycling.
"We stay in front of what customers and stakeholders expect and it's a very sincere commitment—something we take very seriously," she said, adding that a strong corporate social responsibility plan attracts and retains talented employees.
Simmons-Telep, also a UConn alumnus, talked about the value of designing, implementing and assessing programs that support the growth and development of high-impact ventures.
Shore urged the students to use their analytical skills to translate their concerns and accomplishments to people who are less versed in sustainability.
"I thought it was incredible to see the different career paths that we can pursue with our newly minted business skills," said MBA candidate and Net Impact member Josh Litwin. "Not only can we make an impact on a company's bottom line but also on the community's environmental and social needs. I thought it was interesting why the speakers took the career paths they did and many emotional reasons. It was really inspiring."
Isaac Alawobu, a native of Ghana and a UConn MBA candidate, said he liked the different backgrounds and the common thread that connected the speakers.
"Sustainability and corporate social responsibility can connect every one. It's a broad field for us to join, really without limitations," he said. "I left here thinking that it is crucial to be creative, and always think about the common good."
---